TANDEMKROSS upgrades for the Ruger PC Carbine
If you're not already familiar with the Ruger PC (Pistol Caliber) Carbine, you're missing out. Ruger has developed a solid platform chambered in 9mm that possesses a lot of desirable characteristics. From the factory, the Ruger PCC features a stout factory threaded and fluted, cold hammer forged barrel. To sweeten the deal, the carbine breaks down like the 10/22 breakdown and comes with an adapter to accept Glock magazines. Where the factory PCC lacks ingenuity, TANDEMKROSS took an otherwise underserved platform and finished the job.
The Installation
Let's begin the review with the installation. After spending a little time with Bill on the TANDEMKROSS YouTube Channel, I was able to get everything swapped out and installed. Because of the integration with the platform, everything more or less falls right into place and requires only a few basic tools. The longest install goes to the Victory Trigger, and even that wasn't much of a challenge. All-in-all, the total installation time was around 30 minutes for the whole deal. If I can make these installs happen while listening to a toddler playing Baby Shark on a loop, you'll be fine.
"Spartan" Charging Handle:
As of this writing, this is my favorite of my enhancements to my PCC. The design of the "Spartan" Charging Handle upgrade took away the clunk of the of the factory charger and made for a smooth charge that is aesthetically pleasing. I chose black for mine, but they offer it in red as well. Requiring a single Allen wrench, the Spartan is an easy swap with the factory charger and uses the existing hardware to install. This is an upgrade that you can add to your PCC for a reasonable price, and see an immediate and noticeable difference over the factory equipment. Whether you're building a race gun, or just looking for extra reliability, for around $20, this is a no brainer.
"Titan" Extended Magazine Release:
Another sharp improvement and easy install by TANDEMKROSS – the Titan" Extended Magazine Release. On this piece, the folks at TANDEMKROSS sent me the red color option. At first, I wasn't sure how I felt about deviating from the all black look of the carbine, but as the parts went on, I started to dig it. If red isn't your color, TK offers the mag release in black and silver as well. I'm a fan of an oversized mag release on just about any platform, and the "Titan" delivers on my PCC. My short fingers tend to hinder my ability to work the controls on a lot of platforms, but this mag release helped ease that burden. Whether it's short fingers, fat fingers, or butter fingers, the rigid grooves and oversized surface area make this another home run from the folks at TANDEMKROSS!
"Game Changer Pro" Compensator:
A reoccurring theme that I've seen in online discussions of muzzle devices for the PCC is how easy it is to clean the TANDEMKROSS "Game Changer Pro" after a day at the range. TANDEMKROSS boasts a proprietary coating, and whatever it is, it works. You could probably add me to the cult following of the "Game Changer Pro" on that fact alone, but there's a bit more to this product than its ease to clean.
The factory cold hammer forged heavy barrel was a big selling point for me on my PCC. The "Game Changer Pro" features a heavy duty steel and compliments an already solid barrel profile. For the sake of comparison, I don't have experience with other after market 9mm muzzle devices. What I can safely say is that I'm confident that the "Game Changer Pro" will produce long term shooting improvements and is well worth adding to your cart when you're stocking up on TANDEMKROSS parts for your own Ruger PC Carbine. I'm not sure what I expected in terms of difficulty, but this upgrade was by far the easiest to install and did not require tools. At $59.99, it's the more expensive of the of the Ruger PCC upgrades, but it's not something that I would leave out when completing my build.
"Victory" Trigger:
The nice thing about this review is that I still had access to a stock PC carbine throughout the upgrade process. When all is said and done, there are several areas of improvement that you'll notice when you upgrade to a TANDEMKROSS Victory trigger. It's my first experience of going from a curved trigger to a flat trigger and I have to say that I like it. The aluminum construction and added texture are both a welcomed upgrade from stock as well. The trigger performed very smoothly at range time and compares to triggers on other platforms in a higher price point. I managed to install this trigger in between a transition from "the wheels on the bus", and "baby shark", with a shrieking toddler. It's a tad more difficult to install than the other upgrades, but it was very doable and only required a few standard tools. If you're wondering about the extra piece in the pack, it's a slave pin for reassembling your trigger, use it (you're welcome). They sent this upgrade in red (also available in black) and it really stands out in a positive way. Squeeze the trigger on this upgrade and add it to your cart right now.
Upgraded Receiver KrossPins:
If you're buying the "Victory" trigger, go ahead and add these to your cart. I'll admit that at first, I didn't understand the value of these upgraded receiver pins. But if you're like me and enjoy modding your weapons, you're going to be taking the factory receiver pins out and you're going to loosen them. Pro tip, learn from my mistake and swap them during the trigger install, not after. It wasn't until I reassembled the rifle that I realized I could have swapped these during the trigger install. At $9.99, don't think it, just buy them.
Fiber Optic Front Sight: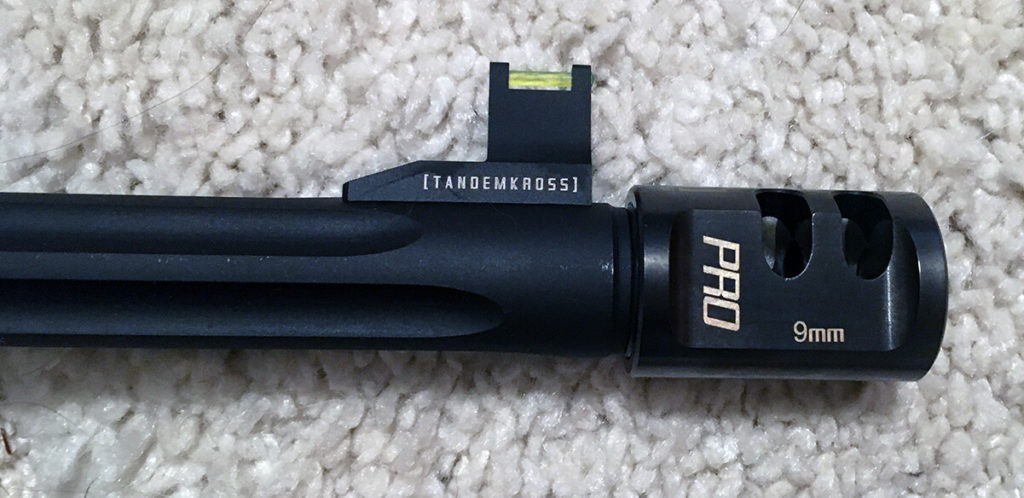 Shipped with a green tube installed and a red tube to swap. Even on a low light day, the green and red tubes absorb extra light and improved my ability to quickly get on target. My only snag on the install was the little torx bit that I don't use very often and didn't have on hand. It may seem like a simple upgrade, but the impact on your weapon can be noticed immediately. For $29.99, it's worthwhile upgrade.
Review Round-Up
As if the parts themselves weren't great on their own, what really puts TANDEMKROSS on the next level is their customer service. The team at TANDEMKROSS has been very easy to connect with and have treated me as if I was their best customer. I didn't expect a speedy turnaround on my Black Friday order after the release of the "Spartan", but the shipping department had my order in my mailbox the following Monday. What could be better? They're made in the USA with a lifetime guarantee.
I've been Tandemized and there's no going back. As their motto states, they've taken an otherwise good gun and made it great. Whether you are looking to build a race gun for competition shooting, or just want improved ergonomics and reliability from your PCC, you can't go wrong with the full package of TANDEMKROSS upgrades. Take my advice and give them a shot, you won't be sorry!